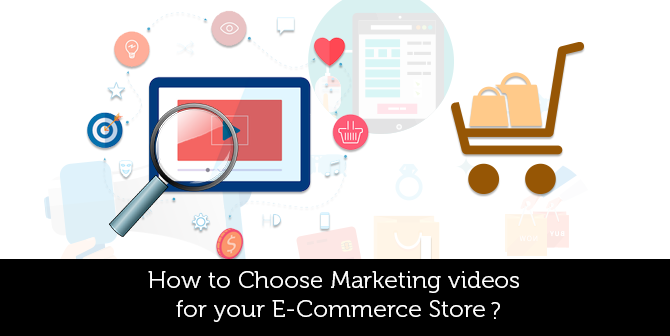 How to Choose Marketing videos for your E-Commerce Store?
Add marketing videos in your E-Commerce
A beautiful image in your Ecommerce website can be self explanatory, but a product video provides more engagement and conversion to your Ecommerce website. More than 90% of customers say that they find videos in shopping website is more helpful than image. Web-Stores that used videos in their product pages have experienced an increase in conversion rate more than 80%.
Now let see some of the basic To-Do list that you should consider while developing a video marketing strategy for your E-Commerce website.
How to choose perfect video Marketing Strategy for your E-Commerce Web-store
Before you dive into a creative angle for your marketing video, you should think and plan of what kind of video strategy will work best for you. What's your goal that wishes you achieve with these videos marketing. How much time or money or skill set you have.
You can create videos on three main categories
Creating your own video
Developing your own video is large and resource demanding process, but also most rewarding one as you can deliver a voice of your brand or business. If you have your own business and products then you it's a good idea to make your own video that will promote your business brand or values or vision.
Re-share pre-designed videos
If your business doesn't have enough of skill sets or you have very limited time or you are little bit shy or feel uncomfortable in front of camera to create your own video it's not a big problem. You can use pre-developed videos from popular video sharing site like YouTube. These sites have been overflowing with videos by categories that are available for re-sharing freely.  This method is very useful to test how shopping customers are reacting to your videos so that you can experiment with various strategy of video marketing.
Combining two videos with curated videos
Lastly, mix both the above mentioned method and create a new curated video. This is a great way to express your emotion and keep your customers engaged while demonstrate your products in your E-Commerce website.
Select the right type of videos
After you have decided the right video strategy for your online business, you should consider about the content for your video that your customer will get interest. Make sure your stories engage your customers and encourage them to click your call-to-action.  Some of the best E-Commerce video types are.
 Product review videos
These types of videos let your customers to know what the key features and uses of the products and also about their performance. These videos will provide expectation to the customers about their products before they purchase that product.
How-to tutorial videos
These types of videos are instructional videos showcasing how to set-up or how to use and maintain the products. They are very useful to complex products such as electronics, appliances, beauty products and many more.
Unboxing videos
These types of videos are used for demonstration of the product packing and its unwrapped that helps your customers to view their product better. This video will help you to boost your customer's interest on that product.
While creating video make sure that you answer all the questions that your customer would likely to ask. And always remember that your product video should act as virtual sales person that will tackle any situation that your customer is expecting.
Best practices for product videos for E-Commerce
Get inspired
Go through various YouTube videos that are about your products and brands you are selling. Do some research about the products in the same category brands, users, experts and retailers. This will make you to create better videos for your business
Add marketing videos in your ecommerce
Gather quick and good amount of data by making videos about top selling products or the products pages with highest traffic. This will provide you better data that will increase engagement and conversion.
Bring videos closer to conversion points
Plan where your videos to be displayed. Make sure you add products videos within product page rather than categories to improve more sales.
Make video easy to spot
Place your videos along with products images and product description. This will surely catch the attention of your customers. Placing the videos below folds will make it difficult for your customers to discover them.
Add multiple videos in your product pages
Try out different combination of videos to engage your customers. Mix up you products videos with customer review and tutorials to increase the trustworthiness on your products.
Make sure videos display well on mobile
Give your customer a seamless experience while using mobile to purchase the products on your E-Commerce website. Never leave responsive design to your videos as well. Make sure your customers can see videos in best quality while browsing in mobile.
In final once you have drafted your ideas in video marketing strategy, never forget to test your video works in your E-Commerce website like customers behave on your products pages, how many visitors are watching videos, how it impacts on your product pages and how much conversion rate it provides.
With these data monitor your customers experience and understand through the feedback you received give a perfect shopping experience to your customers.
If you are looking For Custom E-Commerce Website Solution click here.
How to Choose Marketing videos for your E-Commerce Store?
by
Mahesh Putta