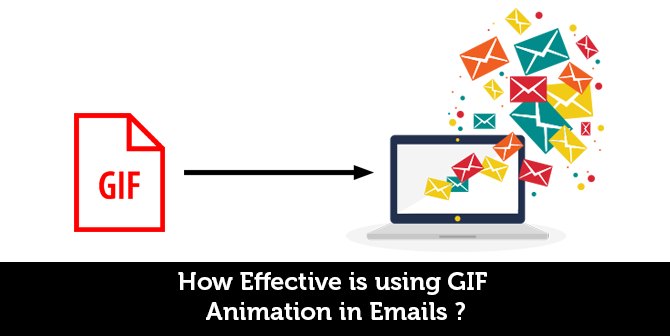 How effective is using GIF Animation in Emails?
It's an acceptable truth GIF animation is gaining undying popularity from last two years.  GIF stands for Graphics Interchange Format which is a series of images that is binded together and looped back again and again to create appearance of motion or animation.
Although now-a-days GIF animation have been widely used in websites and many major social media networks, For Email newsletter designers and Email Marketers its a new start today. As GIF Email provide effective solution in expressing the feelings in quickest way most Email Designers lean towards GIF.
GIF animation support is limited in some Email clients but their engagement towards your customers is unlimited. GIF animation in Email design reduces the need of lengthy block of explanatory or instructions. Basically it acts as micro version of explanatory videos.
To see better result we would like you to provide some basic tips to optimize the GIF animations in Emails.
Go with low size
It's a good practice to keep your Email newsletter size below 100KB as more than 50% of your Emails are opened in mobile device. Make sure that your customers with low network speed won't get irritated while opening your Emails.
Many mobile clients automatically reduce the loading time in Emails by shortening the Emails and providing "Download more" button. This will surely irritate your Email viewers. Hence if you planned build a mobile first newsletter design limit your Email newsletter size within 40KB in total.
Adopt Different Method
Completely transforming your Email Newsletter to a single GIF is a bad idea. Your emails should build with combinations of texts, links, images and call-to-action buttons. So it's better slice of the animating part separate and implement them in your Emails. It saves Email loading time on your customers Devices.
Use Your GIF Animations wisely
GIF animation is ideal for quick and understandable graphic stories. While using in your Email newsletter designs it can be utilized to keep attractive call to action buttons to get maximum click through rate.
Implementing animated GIFs in your Email will pull your customers attention to a single point. You can express multiple products or complicated stories easily and quickly that might require bunch of steps to explain.
 Reach more people
While creating a GIF animated Emails newsletter design, it's a vital process to deeply test it through popular Email testing software like Email On Acid, to make sure that your Email newsletter design will display well without losing the quality.
Many E-retailers have reported that after using GIF animation in Email newsletter designs gave a hike upto 12 percentages in engagement of their users. Business that used animation in their call to action button has seen a 26 percent increase in Click Through Rate of their Emails.
Now let see and How to implement GIF Animation in Email Newsletter
We recommend you to create GIF animation by saving your animated files by files > export > save for web (legacy) and in preset option choose GIF restrictive to prevent color banding. The higher Dithered the finer your quality becomes. But it will gradually increase the file size.
After you have sliced your GIF Image with the recommended setting you can insert your Animated GIF image just like your regular jpeg or png images. Before implementing the GIF animation images makes sure that first frame of the animation well explanatory as for now there is limited support in GIF images. Hence your Emails newsletter should provide meaning even when Animation is not loaded.
In final the world of Email Newsletter Designs is moving towards GIF Animation. Hence don't worry about the limited support of GIF files. there is a bright future for it in upcoming days. If you feel, implementing animating GIF is a puzzling process, do contact us.

Looking For Ecommerce Development Company?
How effective is using GIF Animation in Emails?
by
Mahesh Putta